I'm going through my photobucket account to see what pics/scenes I haven't mentioned on here yet. There's just a few, so we'll put them all in one post and then I'll be caught up and ready to move forward!
The first is my Thanksgiving scene in a cornacopia. This scene, with a how-to, was published in the Nov 2007 issue of American Miniaturist. I no longer remember where I came up with the idea, but it's one that I just love. I like the unusual containers for scenes and this was my first. This picture was taken on Sept. 26, 2006.
This next one is a Valentine's scene that I did in February 2007 for a contest in a forum I used to belong to.
This is the view without the cover to the gazebo on: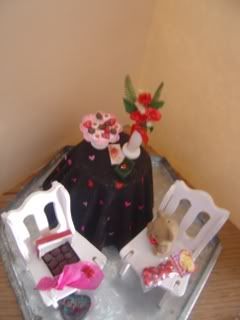 This is with the cover on: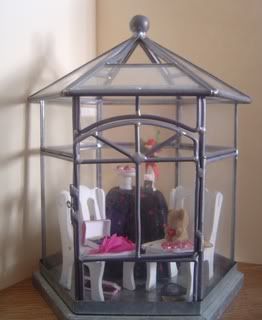 This is a little bakery stand I did as a group project last fall on my yahoo group. I gave it to my friend, Bonnie.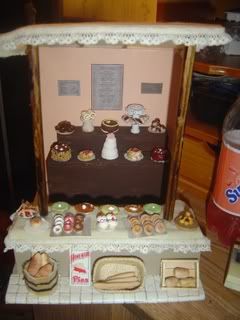 I've been wiped out the last week or so, haven't been able to work on any of my projects, which is why we're still seeing my previous scenes. I'm going in to the doctor tomorrow to get checked for anemia, thyroid, whatever to see if we can find what's wrong.