Guess I've just been a bit too busy to blog! I can't believe how bad I am at this!! LOLWell, I finished my farmhouse last Friday, I think. Here are those pictures:
Child's room
Parents room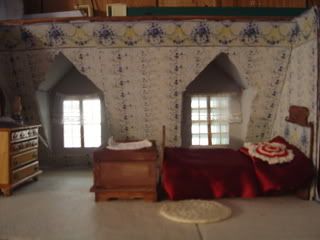 Living Room
Kitchen
Here are a few desserts I've made in the last few days:
Biscotti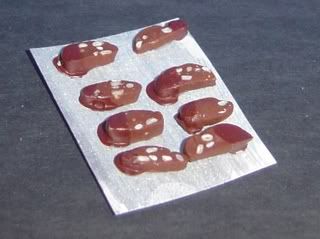 Brownies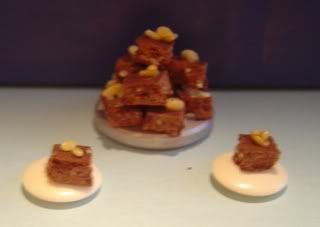 Cheesecake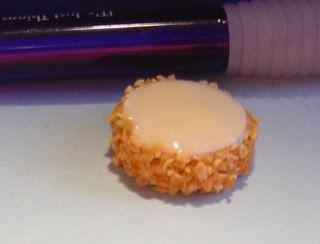 Easter Cakes
St. Patricks Day cake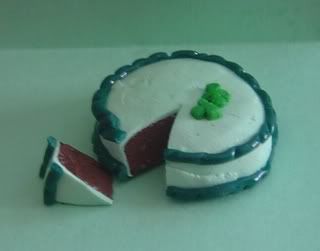 Twinkies

I think I am most proud of the cheesecake. I was laying in bed one night and the idea came to me. It was kinda based on my banana cream pie. I was trying to remember all the gallery glass colors I have seen at Kleins to see if there would be one the right color for cheesecake. I decided that if not, I could mix white with a very small amount of yellow. As luck would have it, the cameo ivory color was perfect! I cut the cake out of model magic with a glue stick lid, and let it dry. Then, after a lot of debating on what would work, I rolled the sides of the cake in glue, then in grated orange peel. I let that dry completely before covering the top of the cake with the gallery glass. Now, I plan to make more and add cherry topping, but the first one I wanted to be a plain cheesecake. I am really pleased with the way that it turned out. The biscotti was made based on a tut I found online, with some changes. It's basically chocolate sculpty with corn meal mixed in for texture. Then, I mixed in sesame seeds. The clay was rolled into a snake about 1/2 inch wide, flat on the bottom and rounded on the top. Then, I sliced it in 1/16 inch slices. It's important to slice before baking, or they don't look right. Bake slices as directed on package. After cooling, mix chocolate colored paint with glue and dip one end of the slices into it. Let dry and you're done. The brownies were made with the same mixture. These, however, I rolled into a rectangle 1/16 inch thick and baked, then cut into individual pieces. I mixed sesame seeds in amber gallery glass and separated immediately. Then, I topped each brownie with one or two of the sesame seeds, which resemble walnuts.