May 25 2007, 01:32 PM
Tonight I stopped procrastinating and started the egg carton "stone work" on the Sugarplum. I am genuinely surprised at how it's turning out so far. I have one entire wall done - the one with the chimney. I plan to do the chimney different, somehow, so have left it alone for the time being. I also got started on the front wall, behind the porch. I don't want to do the rest of it until I get the window box put on the window. I opted for using my pastels for coloring, which was a pain, but turned out well. I didn't make it to the craft store to find paint in the color I wanted and I didn't want to put it off any longer!
Yesterday's class went very well. I was pleased with the turn out and the pictures I've seen of bread people made. I made Irish soda bread during class, because I had already made regular bread the night before in order to take pictures to post along with the steps. I really love the way they turned out and I can't wait to finish my cottage so at least one of them can take their rightful place in the Irish kitchen! The other might stay in the bakery.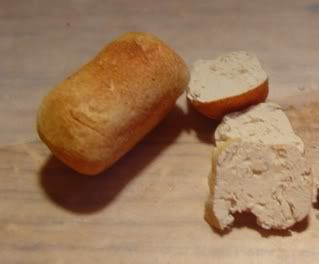 Awhile back, I saw a package of wood pieces at Walmart. I snatched them up, because our Walmart isn't going to be carrying them much longer. They just sat here until Jerry asked me if I had plans for them. I told him no, so he decided to use them to make an outhouse. I tell ya, it was so much fun to sit working on the egg carton stones on the Sugarplum with him at the same table working on this outhouse. I think it turned out pretty cute, although we do still need to weather it. I felt like a queen when he made it for me!